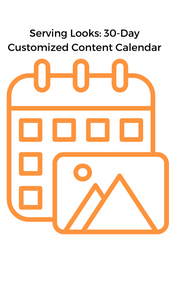 Serving Looks: 30-Day Customized Content Calendar
Regular price
$12.99
$0.00
Unit price
per
Get ready to serve up irresistible content that leaves your audience in awe with Serving Looks: 30-Day Customized Content Calendar. This digital content calendar is tailored exclusively for entrepreneurs and influencers who are ready to captivate their followers and elevate their brand presence.
Serving Looks understands that standing out in a crowded digital landscape requires a strategic approach. That's why our expert content creator will design 30 carefully curated post ideas, each crafted to perfection based on your unique niche and business.
How It Works:
Purchase Serving Looks: 30-Day Customized Content Calendar through our secure checkout process.
Within 24 hours of your purchase, email us at servinglooksatl@gmail.com with your detailed business description and link(s) to any of your social media handles.
Once we receive your information, our team of creative professionals will get to work, combining their expertise with your business insights to create a tailored content calendar that reflects your brand's identity.
In approximately one week, you'll receive your personalized 30-day content calendar, delivered conveniently in a digital format.
Why Choose Serving Looks:
Unleash Your Creative Vision: Serving Looks empowers you to express your unique style and brand persona through captivating content ideas that resonate with your audience.
Niche-Focused Brilliance: We recognize the importance of targeting the right audience. Serving Looks' content calendars are meticulously designed to engage and connect with your specific niche market.
Time-Saving Brilliance: No more staring at a blank screen or scrambling for ideas. With Serving Looks, you'll have a ready-to-implement content plan, allowing you to focus your time and energy on other aspects of your business.
Amplify Your Online Presence: Consistent, high-quality content is the secret to boosting your online visibility. Serving Looks equips you with the tools to strengthen your brand presence and expand your reach.
Non-Refundable: As Serving Looks offers personalized content calendars, all sales are final. Please ensure you provide accurate information during the purchasing process.
Don't miss your chance to serve up stunning content that keeps your audience coming back for more. Purchase Serving Looks: 30-Day Customized Content Calendar today and experience the transformation of your digital presence.
Disclaimer: Serving Looks: 30-Day Customized Content Calendar is a tool designed to assist you in generating engaging content ideas. Results may vary depending on factors such as implementation and audience engagement.
---
Share this Product
---